Physiotherapy in Hamilton
Physiotherapy is rehabilitative health care, offering a wide range of special services. From expert diagnosis, to treatment and disease prevention, our registered physiotherapist, helps our patients grow stronger and more independent by focusing on the systems of the body related to movement and muscle strength.
Muscles are the primary stabilizers of our joints. When joint issues arise, physiotherapy treatment and rehabilitative exercises strengthen the muscles and ligaments around the joint. A continuing program of treatment and exercise may affect how fast you heal.
By helping your body move and function to its fullest, physiotherapy can improve the quality of your life and make you stronger by improving your flexibility, freedom, mobility, vitality and so much more.
New Patients

How We Help You
Your therapist begins the treatment of each patient after an extensive assessment. This may include health history, evaluation of pain and movement patterns, tests for strength, joint range of motion, and reflexes. Sensation and cardiorespiratory status are also evaluated. In addition, physiotherapists examine relevant x-rays, laboratory tests, medical records and surgical notes.
Based on this assessment, your physiotherapist will establish a diagnosis and work in partnership with you to develop individualized goals and treatment programs to make you stronger.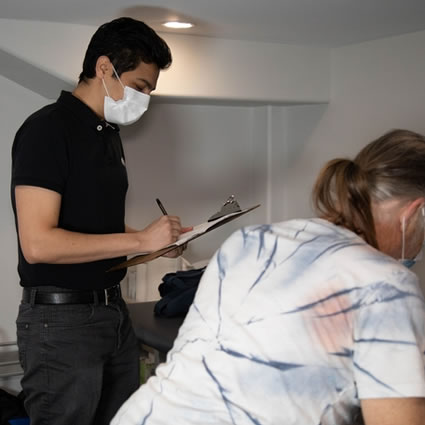 Chiropractic and Physiotherapy
Many people believe chiropractic care and physiotherapy are an either/or solution. In fact, the two work very well together! Integrating physiotherapy and chiropractic care can have better long-term benefits for patient care and treatment outcomes.
Pain may come from poor alignment or improper use of, or a lack of strength in the muscles. Chiropractic corrects the misalignment; physiotherapy helps retrain your muscles and build strength during your rehabilitation.
Benefits from physiotherapy treatments are cumulative. In some cases, chiropractic adjustments may provide immediate pain relief. And that's what acute pain sufferers need the most.
Physiotherapy helps patients restore strength, improve balance, and gain greater mobility and range of motion. Using corrective exercise, modalities, soft mobilization, or other tools and treatments, physiotherapy helps address all the musculoskeletal conditions that limit movement and cause pain.
Chiropractic care uses adjustments; physiotherapy uses movements—both work together to speed your recovery.
Call Us Today
Experience the difference two complementary therapies can make in your life. Feel better faster, and start enjoying life again. Contact Stevenson Chiropractic & Wellness today for an appointment!

Physiotherapy Hamilton ON | (905) 544-5787