Meet Jenna Stevenson
Assistant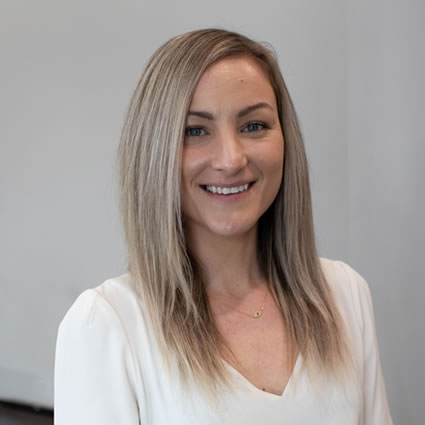 Friendly and outgoing, Jenna is passionate about forging relationships with patients here at Stevenson Chiropractic & Wellness. She joined the practice during the pandemic, as the office was short-staffed, and currently works the front desk on Saturdays.
Experiencing the Effects of Chiropractic
Until she started dating Dr. Spencer, who she's now married to, Jenna never got chiropractic care. She's a big advocate for this form of natural healthcare that has helped her in various ways, including improving mobility and hormonal function. "I also suffered a severe concussion and believe my regular treatments helped in my recovery." She now gets regular chiropractic care on a preventative basis.
Education & Experience
Jenna studied Health and Physical Education/Fitness at Fanshawe College and is currently studying accounting and bookkeeping. She's passionate about education, and taking courses is one of the ways she decompresses. In addition to working at the practice, Jenna works full time as a mortgage agent.
Fun fact: She's also a retired competitive bikini athlete and a WBFF pro bikini model, who also became a published fitness model in magazines.
Investing in the Practice's Present & Future
As her family works in real estate, Jenna fell in love with real estate investing, and bought her first investment property at 25. She grew up helping with the books for her family's business, and now enjoys partnering with Dr. Spencer to help the practice flourish.
This business is our baby, so it's our priority. We're here for patients for the long term and are committed to catering to the future generations of their families."
Jenna feels that one of the reasons why she and Dr. Spencer work so well together is that he can focus on being the doctor while she concentrates on the back end of the practice.
Staying Fit
Growing up, Jenna played competitive sports and was a top 10 Ontario swimmer. She's passionate about staying fit and works out regularly at the gym, does hot yoga, and goes on daily hikes. Meditating and getting a good facial are other things she does for self-care.
Book an Appointment
Contact us today to schedule an appointment!

Jenna Stevenson | (905) 544-5787