Meet Trang Le
Physiotherapist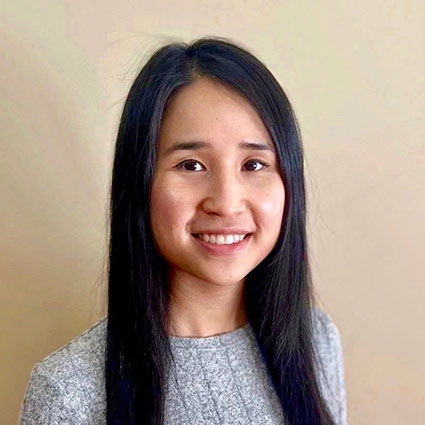 Growing up as a competitive soccer player, Trang experienced various injuries. "After seeing a physiotherapist, I saw how well they were able to treat me, allowing me to return to play." Trang's positive experience led her to pursue a career in physiotherapy.
Education & Certifications
After Trang completed her Bachelor of Science in Kinesiology from McMaster University, she earned a Master of Science in Physical Therapy at Queen's University. She also has the following credentials:
Complete Concussion Management Practitioner (CCMI)
PWR!Moves® Certified Therapist
Registered physiotherapist within the College of Physiotherapists of Ontario
Member of the Canadian and Ontario Physiotherapy Association.
A Passion for Helping Others
Professional, caring, kind and gentle, Trang is passionate about helping patients achieve their goals. What she loves most about her job is promoting activity-movement-and healthy lifestyles. "I want to help patients recover and return to what they love to do."
When Trang first meets patients, she wants to see that they are motivated and determined to reach their goals, and willing to work hard and partner with her.
EXPLORE OUR SERVICES »
Trang's Hours:
Mon 2:00 – 6:00pm
Tue 7:30 – 2:00pm
Wed 7:30 – 2:00pm
Thu 7:30 – 6:00pm
Fri 7:30 – 2:00pm
Taking a Collaborative & Holistic Approach
Trang enjoys working in the multidisciplinary setting here at Stevenson Chiropractic & Wellness. She can collaborate with chiropractors, massage therapists and physiotherapy assistants to deliver excellent patient care.
She also takes a holistic approach while providing patient care, and has treated many patients, helping them with workplace or sport injuries. Trang offers athletic strength & conditioning. Her extensive clinical experience in practice and hospital settings allows Trang to assess and treat different patients with musculoskeletal, neurological and cardiovascular conditions.
She uses manual therapy in combination with exercise prescription and emphasizes providing patient education to enhance their outcomes. "I also enjoy keeping up to date with evidence-based research to maintain the quality of care I provide to my patients."
Fitness, Fun and Family
Outside the practice, Hamilton native Trang likes to go on long walks and hikes, and enjoys scenic trails and all the many beautiful waterfalls in the area. She also likes running, cycling, playing soccer, and lifting weights. Hanging out with friends, listening to music, and spending time with her supportive family are some of her other favorite activities.
Book an Appointment
Contact us today to schedule an appointment with Trang! She speaks English and Vietnamese.

Trang Le Hamilton ON | (905) 544-5787