Meet Monil Soni
Physiotherapist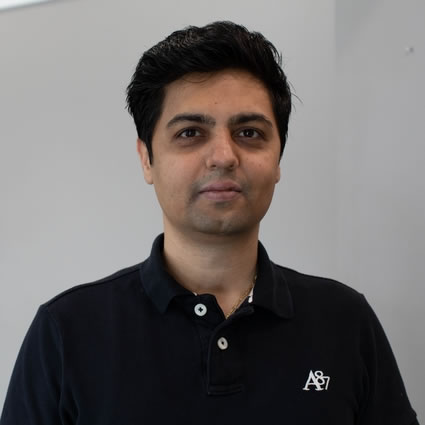 In his role at Stevenson Chiropractic & Wellness, Monil is passionate about seeing patients return to what they love in life-whether it's taking a walk without pain, returning back to work or playing with their children. "My role is to help my patients get back in their routine and provide them with adequate information on how to maintain their current physical well-being or even safely progress on their own."
Deciding on Physiotherapy
In India, where Monil grew up, he was inspired after witnessing a family member regain near normal functional capacity after joint replacement surgery who was helped by a physiotherapist. Monil captured the physiotherapist playing different roles such as empathetic listener, motivator, educator, expert, advocate, collaborator and the most important a supportive friend throughout the rehabilitation journey.
Providing Confidence-Boosting Care
When Monil spends time with his patients, he explains to them relevant information about their condition, applies effective techniques in the clinic and teaches patients to do those techniques safely at home.
Monil's patients also enjoy his sense of humor, and like that he makes them laugh.
Always Learning
To prepare for his career as a physiotherapist, Monil earned a Baccalaureate degree from Rajiv Gandhi University of Health and Sciences in India which is equivalent to Master's degree in Physical therapy evaluated by Canadian Alliance of Physiotherapy Regulators (CAPR). The 5-year program included an internship in a public hospital. Monil practiced in a privately owned clinic in India treating common musculoskeletal injuries from 3 years.
Currently, Monil is in good standing with The College of Physiotherapists of Ontario (CPO) since 2018 and is rostered to provide acupuncture treatments.
In addition to practice as a registered physiotherapist, Monil is also in his final year working toward a diploma program for Traditional Chinese medicine Acupuncture and Moxibustion. He will have a secondary license and be called a registered acupuncturist once he clears the exam.
In constant pursuit of advancing his knowledge, Monil is also planning to become a CAMPT-Certified physiotherapist, a Fellow of the Canadian Academy of Manipulative Physiotherapy (FCAMPT). Earning the designation requires postgraduate education with five level exams. Currently, Monil is preparing for the Orthopaedic Division Level 1 exam.
Explore Physiotherapy

Hobbies and Family
When he's not at the practice, Monil enjoys spending time with his wife, who's also a physiotherapist. She specializes in pelvic health.
In the winter months, Monil enjoys cross country skiing, and in the warmer months, he likes to swim, hike trails, and camp. He also enjoys staying active by taking spinning classes and doing HIIT, a high intensity training program.
Book an Appointment
Contact us today to schedule an appointment with Monil!

Monil Soni | (905) 544-5787